The Teamfight Tactics (TFT) Mid-Set update is almost here, and the patch notes are finally here! There are a lot of changes in this update, but we discussed many of them previously when the Dev Drop was first announced. Make sure to check that out. Then, keep reading for a look at what we didn't already know.
To view this video please enable JavaScript, and consider upgrading to a web browser thatsupports HTML5 video
descriptions off

, selected
captions and subtitles off

, selected
This is a modal window.
Beginning of dialog window. Escape will cancel and close the window.
End of dialog window.
The new Galaxies II Pass
An all-new Galaxies Pass will go live with this update. Just like with the first Galaxies Pass, this will let you earn free in-game cosmetic content by completing quests and earning experience while playing TFT. You can also upgrade the pass to the Galaxies II Pass+ to earn even more cosmetic content. Keep in mind that this content will not grant any competitive advantage.
The new Galaxies Pass will include new emotes, arenas, and booms. Players will also have new Little Legends to collect and use. They even have a shot at opening one of these in eggs.
Ranked reset
Once the patch is live, every player's TFT rank will drop one full tier. This means that Platinum III players will start in Gold III. All players Master and above will be put in Diamond IV. Each player then must play five placement matches to begin their Galaxies Ranked Stage II journey.
Players who finished Gold or higher in Galaxies Ranked Stage I will earn a Victorious Little Legend. Players can earn another Victorious Little Legend for finishing Gold or Higher in Stage II as well.
Big balance changes
Of course, the biggest TFT changes coming tomorrow will be the new Champions and Traits coming to the game. While these have all been covered previously, there are also many balance changes coming. Be sure to read through Riot's official notes to check all of them out.
The Return to the Stars Mid-Set Update is rolling out with TFT Patch 10.12!



Read the full patch notes

https://riot.com/3hedlRY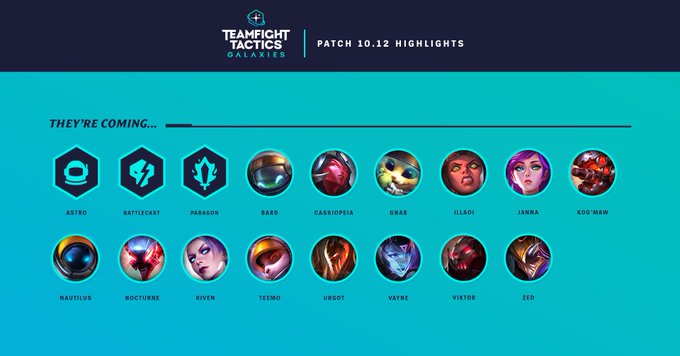 Make sure to stay tuned for new TFT guides and news about the Mid-Set update!
Source: Read Full Article