Joonas "Jnszki" Savolainen is among the greatest Rainbow Six Siege players of all time. His retirement announcement on Oct. 31, 2019, came as a shock to many. However, today, Team Secret revealed that Jnszki is joining their team to compete in upcoming events.
Jnszki's legacy
Jnszki played in the competitive Rainbow Six Siege scene for over three years. His earliest recorded victories were from April 2016 with Gifu Esports, but his pro career really started when he joined the Penta Sports team in August 2016. He competed with Penta until August 2018, ending his two years with them with multiple tournament victories. Their crowning achievement was their victory at the Six Invitational 2018 in February of 2018, where the team won the grand prize of $200,000.
Soon after, Jnszki joined the Siege roster of G2 Esports. Just one week after joining, Jnszki and his new teammates managed to win the Six Major Paris 2018 for $150,000. They would go on to win events such as the Pro League Season 8 and Dreamhack Winter 2018. The team's biggest success of them all came in the Six Invitational 2019, where they won one of the biggest prizes to date in Rainbow Six Siege: $800,000.
Team Secret
Going for the 3rd?

We're proud to announce Joonas "jNSzki" Savolainen as the 5th member to our #SecretR6 squad!
Welcome to the family @Secret_jNSzki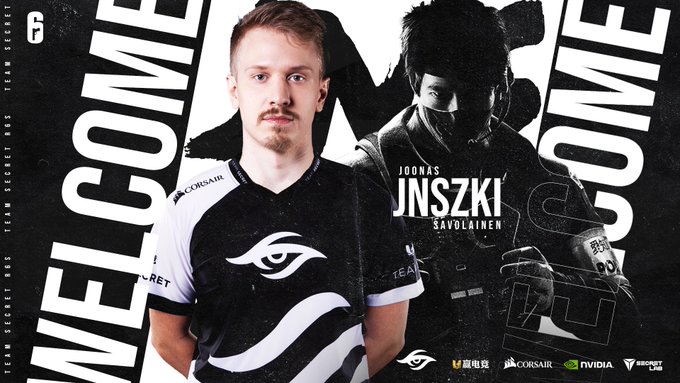 After Jnszki's retirement back in October of last year, many didn't expect him to make a return to the scene. However, Jnszki is now back for a new challenge. He is joining the roster of Team Secret, one of the lesser-known teams in the scene. This new team has yet to find much success with Rainbow Six Siege so far. Their players did win some small events and have started to attend their first major events, but they are far from Jnszki's level.
One of the positive aspects of Team Secret, though, is how long they have been together. Before Bryan "Elemzje" Tebessi left earlier this year, most of the team had been together for close to two years. Many fans are excited to see Jnszki return to the scene, and it should be interesting to see how far he can lead this new team.
For more Rainbow Six Siege news, be sure to read all about the new Corsair partnership with Ubisoft.
Source: Read Full Article