Guild Esports has been disqualified from the VALORANT First Strike European qualifier after using an exploit in a match against G2 Esports. The victory would have sent the Swedish roster to the qualifier's play-off stage, though they've now been handed a forfeit loss following the discovery. G2 has moved on to the play-off stage in their place.
The match in question took place during the play-in stage of the first VALORANT First Strike European qualifier. Guild Esports moved on to the round-of-16 after defeating Team Queso, matching up with G2 Esports who had previously defeated VASTA Gaming. The two European squads squared up on Ascent, where Guild seemingly came out with a 13-10 victory.
After review from Riot Games, Guild was deemed to have abused an exploit in order to gain an unfair advantage over their opponents. The exploit used involves Sage's Barrier Orb ice wall and one of Killjoy's Turrets. By placing a Turret on top of the ice wall on B site, a player can boost themselves high enough to see into the tunnels that feed into the site.
The legality of the boost has been debated among the VALORANT community, with some fans calling Guild's disqualification a "robbery." Others call out the inconsistency from Riot Games, as other teams have allegedly been caught using certain exploits and bugs in professional matches without getting disqualified.
Guild Esports responded to the ruling in a statement, saying the team is "devastated." Guild argues the team used an "innovative use of abilities that was permitted." The organization requests that the boost be seen as an "unintentional" exploit and that it be removed from the game.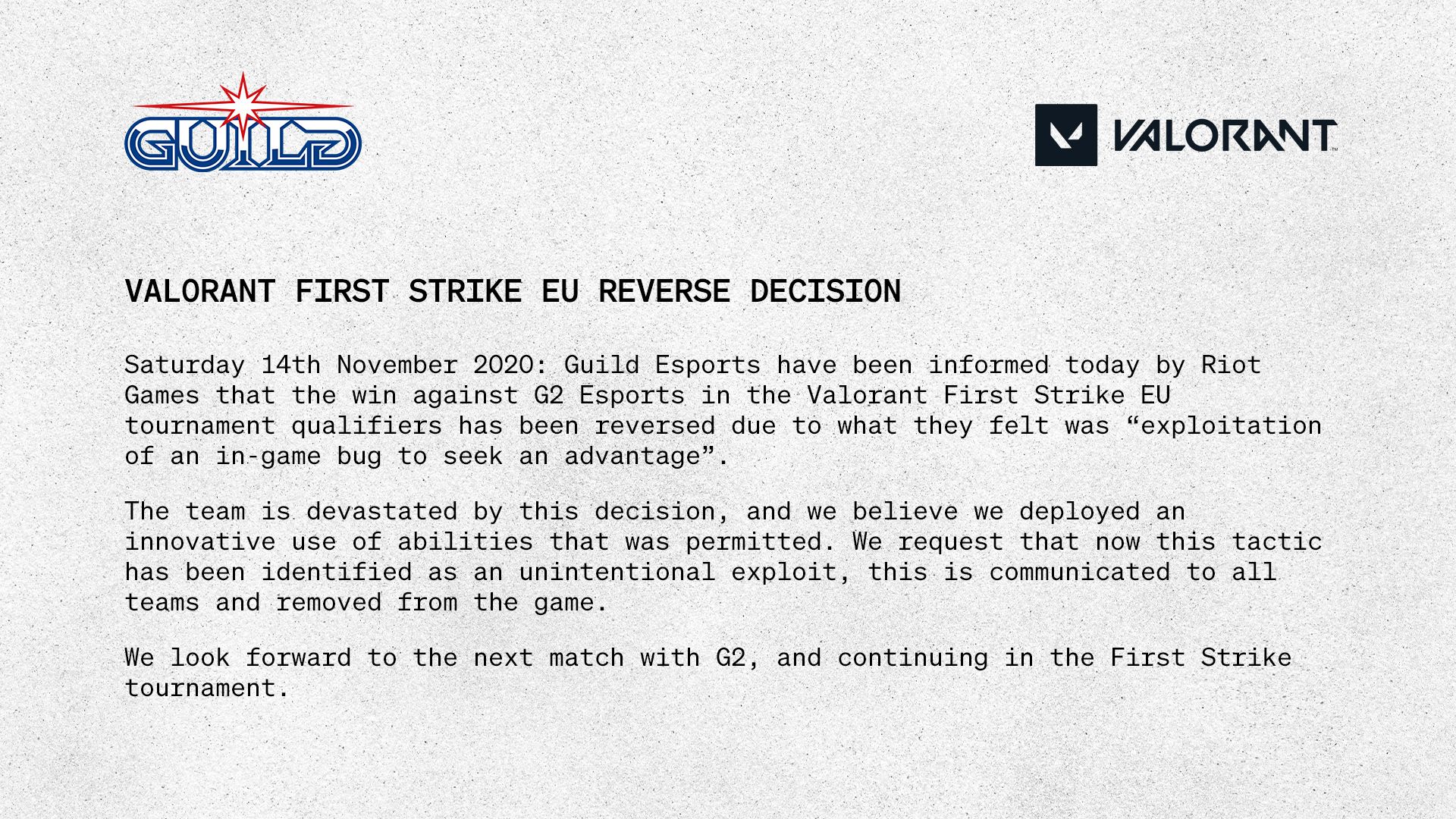 The use of exploits in competitive VALORANT matches is prohibited by Riot Games under Rule 7.2.6 of their Global Competition Policy. The rule states that Riot reserves the right to determine whether or not an exploit has been used in a match, though does only name "intentional" use as prohibited. Per the rulebook, players are encouraged to consult with tournament referees before a match to determine if a move would be considered exploitative.
Riot Games has not yet responded to Guild Esports' statement. G2 Esports moves forward in the First Strike European qualifier; Guild is still permitted to play in next week's qualifier.
Source: Read Full Article