In an effort to bring more opportunities to up and coming teams in the region, ESL has established the Southeast Asia (SEA) Championship for Dota 2. The regional tournament will feature SEA's top eight Dota 2 teams battling it out for a $20,000 USD prize pool. Alongside the lion's share of the prize pool, the winning team will also earn a direct spot to ESL One Birmingham's SEA closed qualifiers.
Introducing the ESL SEA Championship – #Dota2!

of the best teams in SEA


US$20,000 prize pool


Winner earns a direct slot to #ESLOne Birmingham SEA Closed Qualifiers!
Want to be a part of it? Sign up now for our qualifiers! #ESLSEAChamps



http://pro.eslgaming.com/sea/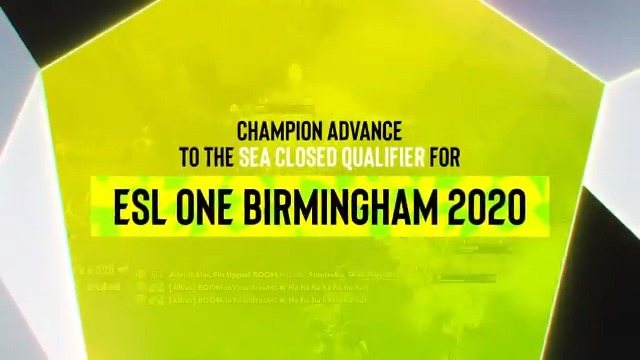 By playing this video you agree to Twitter's use of cookies
This use may include analytics, personalization, and ads.
SEA Championship breakdown
The inaugural season of the SEA Championship will entail four invited teams and four teams determined through open qualifiers. These qualifiers are taking place between February 29 and March 4; meanwhile, invited teams will be steadily announced in the coming weeks. According to ESL, the first invited team will be revealed on Friday, Feb. 21.
The eight teams attending the SEA Championship will be split into two groups of four, Group A and B, respectively. Group A will compete on March 9 and 10, while Group B's matches will take place on March 25 and 26. Each group's top two teams will move forward to single-elimination playoffs, set to take place on April 4 and 5. The matches will all be best-of-3 formats; however, the Grand Final will be a best-of-5.
In a press release, Senior Vice President of ESL Asia-Pacific Japan Nick Vanzetti commented on the new tournament's intended impact: "The zero-to-hero notion has always been a very important aspect for us and we are excited to have a direct connection between our regional and global product. This is a great start for 2020 and we will continue to make the path to pro as direct as possible."
Also commenting on the SEA Championship was Michael Kiefer, Head of Products at ESL Asia. In the release, he states ESL "wanted to develop a product" to fight the issue surrounding lack of opportunity for rising talent.
Be sure to follow Daily Esports to stay up to date with all ESL and Dota 2 news.
Source: Read Full Article