100 Thieves has officially finalized its professional Valorant roster with players from a minor Valorant team known as Team Highground. Spencer "Hiko" Martin was the first to sign with 100 Thieves as the Valorant team captain earlier this month. Together, they hope to forge victory.
To view this video please enable JavaScript, and consider upgrading to a web browser thatsupports HTML5 video
descriptions off

, selected
captions and subtitles off

, selected
This is a modal window.
Beginning of dialog window. Escape will cancel and close the window.
End of dialog window.
Announcing the full roster for our first 100 Thieves competitive VALORANT team:@Hiko@Valliate@VeneratedZR@YaBoiDre@Pridexd
Let's get those Ws. #100T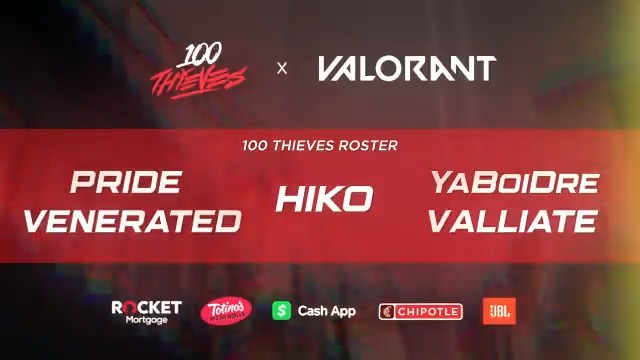 By playing this video you agree to Twitter's use of cookies
This use may include analytics, personalization, and ads.
Hiko made a name for himself in CSGO when he played for major organizations like Team Liquid and Cloud9. He is most famously known for his "inhuman reactions" play at ESL One Cologne against Ninjas in Pajamas in 2014. Since then he has retired from CSGO professionally and transitioned to becoming a full-time Valorant streamer.
100 Thieves signs Team Highground
Team Highground was a minor Valorant professional squad composed of prior PUBG players. Zachary "Venerated" Roach and Alfred "Pride" Choi previously played competitively for Team Envy's PUBG team. Similarly, Diondre "YaBoiDre" Bond played for Tempo Storm and Keane "Valliate" Alonso played for various teams.
Team Highground's fifth member, Jaden "Vegas" James, was not signed to 100 Thieves. Presumably, 100 Thieves took precedence over signing Hiko since he was well known in the Valorant community. Team Highground's coach Tanner "7Teen" Curtis was also not signed with 100 Thieves when the announcement was made.
100 Thieves' first official tournament takes place on June 26 during T1 x Nerd Street Gamers Showdown. There will be 16 teams attending the online event with a $50,000 prize pool. The tournament will feature a best-of-three group stage with the top two teams in each group advancing to the playoffs. The playoffs will be double elimination with a best-of-five grand final. Teams like Cloud9, Gen.G, TSM, Sentinels, and T1 will all be attending the event alongside 100 Thieves.
These teams haven't competed in the same tournament since Twitch Rivals, which featured unfinished rosters. However, TSM has played in the most tournaments since forming and has taken home over $12,500 in prize money across four first-place finishes.
For more Valorant coverage, stay tuned to Daily Esports.
Source: Read Full Article